Marriage is powered by Vocal creators. You support
Rachel Blanchard
by reading, sharing and tipping stories...
more
Marriage is powered by Vocal.
Vocal is a platform that provides storytelling tools and engaged communities for writers, musicians, filmmakers, podcasters, and other creators to get discovered and fund their creativity.
How does Vocal work?
Creators share their stories on Vocal's communities. In return, creators earn money when they are tipped and when their stories are read.
How do I join Vocal?
Vocal welcomes creators of all shapes and sizes. Join for free and start creating.
To learn more about Vocal, visit our resources.
Show less
Gorgeous & Affordable Bridesmaids Dresses Your Friends Will Love to Wear in 2018
Finding gorgeous and affordable bridesmaid dresses for your bride tribe can be a stressful part of wedding planning. Here are 10 beautiful bridesmaids dresses for under $200.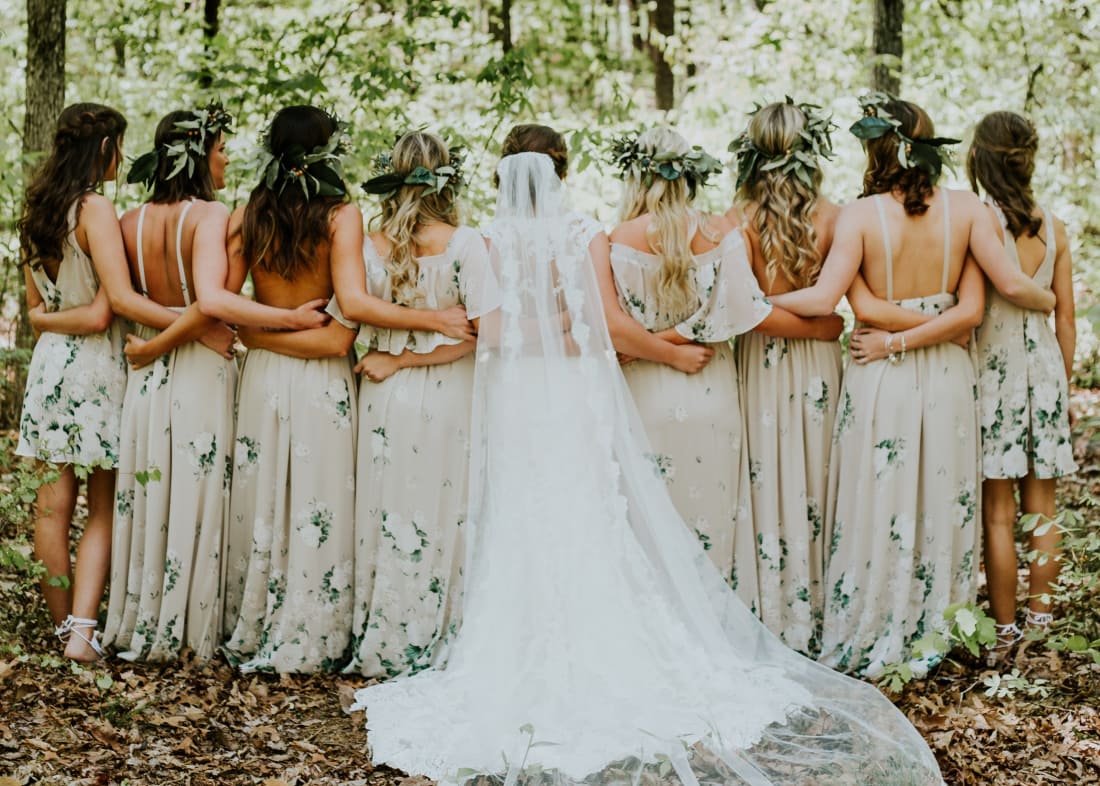 It's no secret that weddings can get expensive. From wedding photography to the food and venue and of course the dress and decor, those dollar signs, as well as your stress level, can add up. Finding gorgeous and affordable bridesmaid dresses for your bridal party can be a pain point during wedding planning. After you've chosen the perfect wedding dress, you need to find dresses for your girls that compliment and support the overall color scheme of the wedding.
Bridesmaids dresses can get expensive, but it's totally possible for your bridal party to look their best without breaking the bank. You don't want your girls to waste their money on a dress they'll never wear again. Nor do you want them to be miserable and feel unattractive in their dress! It's important to keep your bridal party in mind when planning a wedding on a budget. Finding dresses that align with the look of your wedding, fit everyone's budget, and look good on all body types can be a huge challenge!
Don't you worry! Here are 10 bridesmaids dresses that will make sure your bridesmaids are not only stunning as they stand beside you, but also have a few more dollars left in their bank account. And guess what? All the dresses below are under $200. 
Eva Dress by BHLDN
The Eva Bridesmaid Dress has the timeless look of a classic bridesmaid dress. This simple dress has delicate spaghetti straps that form down into a v-cut. The chiffon is the perfect material for a wedding any time of year from fall to a summer wedding. This dress comes in mint, grey, blush, and violet grey shades.
BHLDN is known in the wedding industry for their vintage inspired and sophisticated taste in wedding attire. BHLDN has dresses that are perfect for the simple backyard wedding or a high-end ballroom wedding

Marco Dress by BHLDN
If the Eva Dress isn't a fit, the Marco Dress will be sure to turn the heads of your wedding guests. The Marco dress from BHLDN is the perfect blend of sexy, yet tasteful. This dress has a high neckline with a sexy keyhole cutout on the chest. The dramatic slit on the side allows for a flowy and comfortable feel. The Marco Dress would be an ideal for a black tie wedding. This bridesmaid dress comes in the colors of emerald green, navy, rose, sea foam green, wine, violet grey, and black.
Ashley Dress by Plum Pretty Sugar
If mix and match or floral patterned dresses are what you envision for your wedding party, then Plum Pretty Sugar might have the look you are going for. The Ashley Dress has a halter top fit and two slits along the legs. The dress has a relaxed fit at the waist that you can even accessorize with a tie around the waist.
This dress comes in four different floral patterns and colors. If a solid color dress is more your style then this dress also comes in a light pink and a light red.
Charlotte Dress by Plum Pretty Sugar
The Charlotte Dress is an affordable off the shoulder maxi dress that will give instant summer vibes to your summer wedding. At $120 this dress is gorgeous plus affordable. Still need a dress for your wedding shower too? This dress has a feminine and summery feel that will be perfect for a relaxed bridal shower.
Dara Dress by Anthropologie
Anthropologie is known for their unique bohemian, yet glam style. The Dara Dress is a sophisticated and sultry look for your bridesmaids. The Dara features an off the shoulder bodice that has a ruffle and hugs the body in a sleek column. This dress would be a top choice for a black tie, luxury wedding, but remains at an affordable price for you bridesmaids. This beautiful dress comes in a light pink or black.
Diana Dress by Anthropologie
With a ruffled and playful front, the Diana Dress from Anthropologie is a showstopper in the back. The back crosses leaving an open back with a self-tie bow. This dress hugs the hips and then flows out with a nice front slit. This dress would look stunning on your bridesmaids if you want a simpler look for your girls. This dress comes in rose, grey, or wine.
Off-the-Shoulder Bodice Gown by Adrianna Papell
For bridesmaids dresses that are both sophisticated and high end, Bloomingdale's is the store for you. This dress by Adrianna Pappel is a gorgeous floor length gown. This dress is off-the-shoulder with delicate spaghetti straps and off-the-shoulder cap sleeves that lay lightly on the arm. The bodice of the gown is pleated at the bust and fits tightly at the waist leading to a flowing tulled skirt. This blush dress is what a bridal party dreams of!
Driggs Dress by Likely
A long, flowing bridesmaid dress isn't always right for the style of your wedding or for your bridal party. This Driggs stapless dress offers mid-knee length for those hot summer weddings. This dress could also be the perfect look for your bridal shower or even a bachelorette party night out.
The Driggs Dress features a strapless silhouette with a tired bodice overlay. This dress comes in a variety of colors such as black, bluebell, pink, scarlet, light green, and white.
Lace Illusion Halter Gown by Adrianna Papell
Macy's offers a wide variety of gorgeous and affordable bridesmaid dresses. Adrianna Papell's bridesmaid line at Macy's has several different fits and styles of dresses that are sure to fit any wedding budget. This line offers a variety of floor or knee length dresses that have a flattering A-line fit, and come in a several different designs and colors.
The lace illusion halter gown from Adrianna Papell showcases an illusion halter neckline and a sweetheart bust. The layered A-line skirt will flatter any bridesmaid body type. This lace dress comes in dark purple, almond, silver, navy, blush, and black.
Sequined Tulle Down by Adrianna Papell
Lastly, the sequined tulle gown from Adrianna Papell's line at Macy's is another one of the gorgeous and affordable bridesmaid dresses. This floor length dress has a sequin bodice top and a free flowing tulle skirt. This dress is perfect for any bride who wants their bridal party to sparkle and shine on their wedding day. This gorgeous bridesmaid dress comes in navy, black, almond, dark purple, light purple, and blush.

There are several options for finding affordable dresses for your bridal party, so don't let the stress get to you. With a little research you'll find the perfect bridesmaid dresses that your bride tribe will looking stunning in on your wedding day!