Marriage is powered by Vocal creators. You support
Claudia Jerro
by reading, sharing and tipping stories...
more
Marriage is powered by Vocal.
Vocal is a platform that provides storytelling tools and engaged communities for writers, musicians, filmmakers, podcasters, and other creators to get discovered and fund their creativity.
How does Vocal work?
Creators share their stories on Vocal's communities. In return, creators earn money when they are tipped and when their stories are read.
How do I join Vocal?
Vocal welcomes creators of all shapes and sizes. Join for free and start creating.
To learn more about Vocal, visit our resources.
Show less
Best Wedding Dress Designers in the World
Every woman dreams of having the perfect wedding dress for her big day. If possible, it would be from one of the best wedding dress designers on the planet!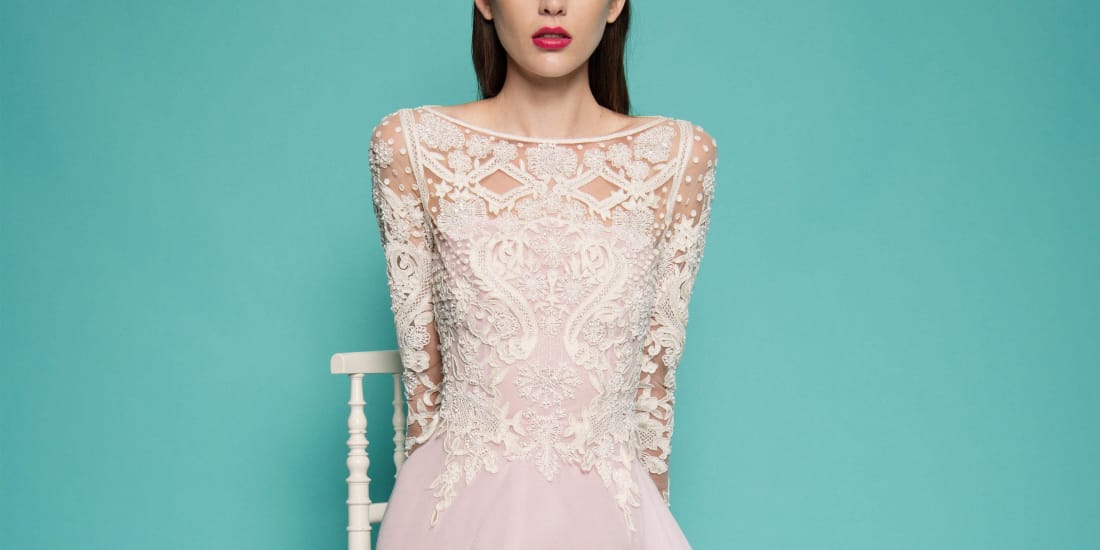 Pretty much every bride-to-be has her own signature style and personal ideas of what makes for a perfect wedding. But if there's one thing that each one can agree on is their wedding dress has to make a statement—a statement about her tastes, personality… something that gives off an "it" factor.
One way that a bride is able to successfully pull all of this off is by getting a wedding dress for her special day by one of the best wedding dress designers around. Although there are many, here are some who are, hands down, some of the most celebrated in the entire world.
Vera Wang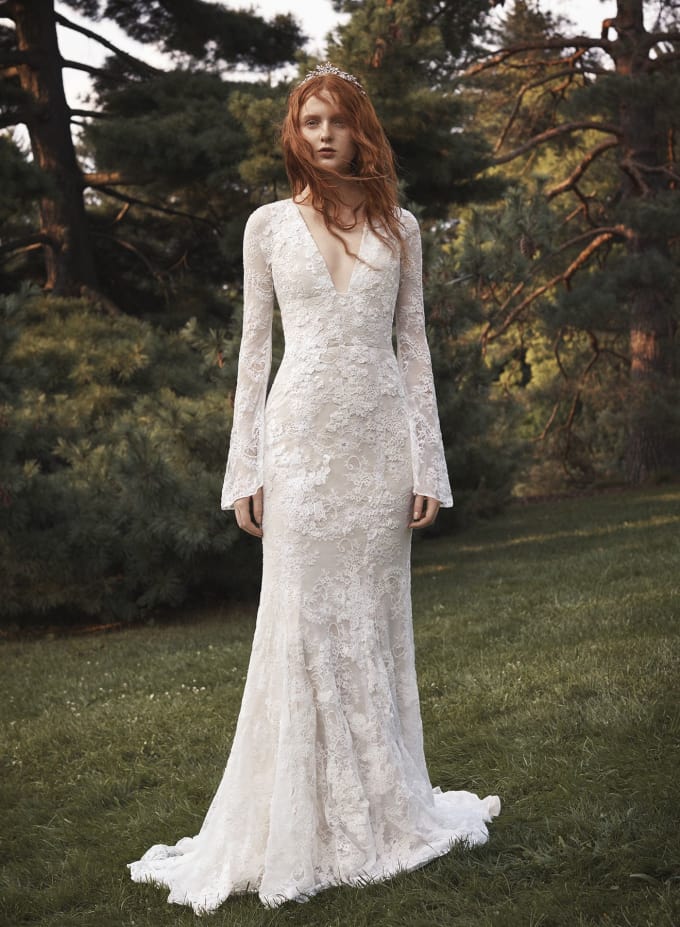 Who doesn't know who Vera Wang is?! 
As a woman who was once a professional ice skater, who would've guessed that she'd become one of the most renowned names in fashion? Maybe it's due to one of her famous quotes on how she merges both worlds: "All those years of skating and dancing have carried over. I can't design anything without thinking of how a woman's body will look and move when she's wearing it."
Whether you're looking for something traditional or a modern bride look that fits perfectly to your own body type, there is absolutely no way that you can go wrong with a Vera Wang original. You'll be the envy of all of your friends—maybe even your own mom. That's how great her designs are!
Christina Wu
Ah. The House of Wu.
Christian Wu is the kind of designer who apparently does little press or social media, making it hard to find out much about her personal life. But when it comes to her work that has made her a household name? That speaks for itself on so many levels.
If you're someone who loves intricate beading and the kind of fabrics that are totally fit for a queen, then a Christina Wu dress is just what you're looking for.
Something that particularly stands out about her wedding gowns is many of them are form-fitting (although some of her full skirts do flow). So, if you want to show your figure off, a Christina Wu is just for you!
Naeem Khan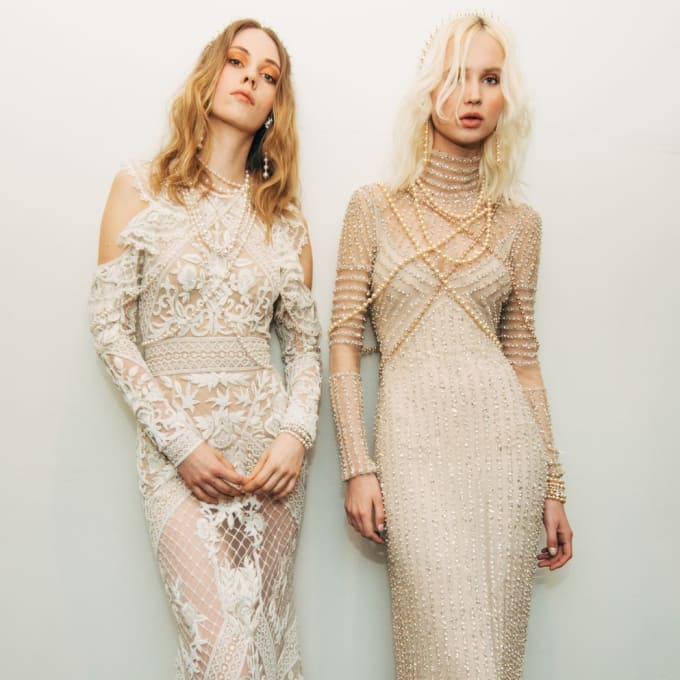 Naeem Khan is an Indian-American designer who actually got his start as an apprentice for the legendary designer Halston. He's certainly come a really long way since then, though, by dressing everyone from the former first lady Michelle Obama and Beyonce to the Duchess of Cambridge Kate Middleton and Jennifer Lopez.
As far as his wedding gowns go, it's kind of amazing that he just launched that division of his designer brand in 2013 because it has already made such a stunning impression. You can see a lot of traditional Indian influence in his work, along with some 3D florals and surprises like pants, capes, and mini-skirts.
If you want something that is a little out of the box, Naeem Khan will not disappoint; not by a long shot!
Amanda Wakeley
Have you always dreamed of having a formal wedding on your special day? If so, British designer Amanda Wakeley is the one you want. Best known for cocktail and evening gowns, her signature style has earned the catchphrase "clean glam", maybe, in part, due to her own beginnings as a professional model.
As far as big day bridal designs go, Amanda Wakeley has a way of opting for simple beauty and elegance in the best way possible. Lots of silks. Lots of crisp white. Lots of the kinds of gowns that would be ideal for a destination wedding, especially if it's by the ocean.
If you're in search of the kind of gown that is stunning without being overwhelming, a bridal design by Amanda Wakeley will certainly not disappoint. You'll want to take all of the classic wedding photos and then some in yours!
Vivienne Westwood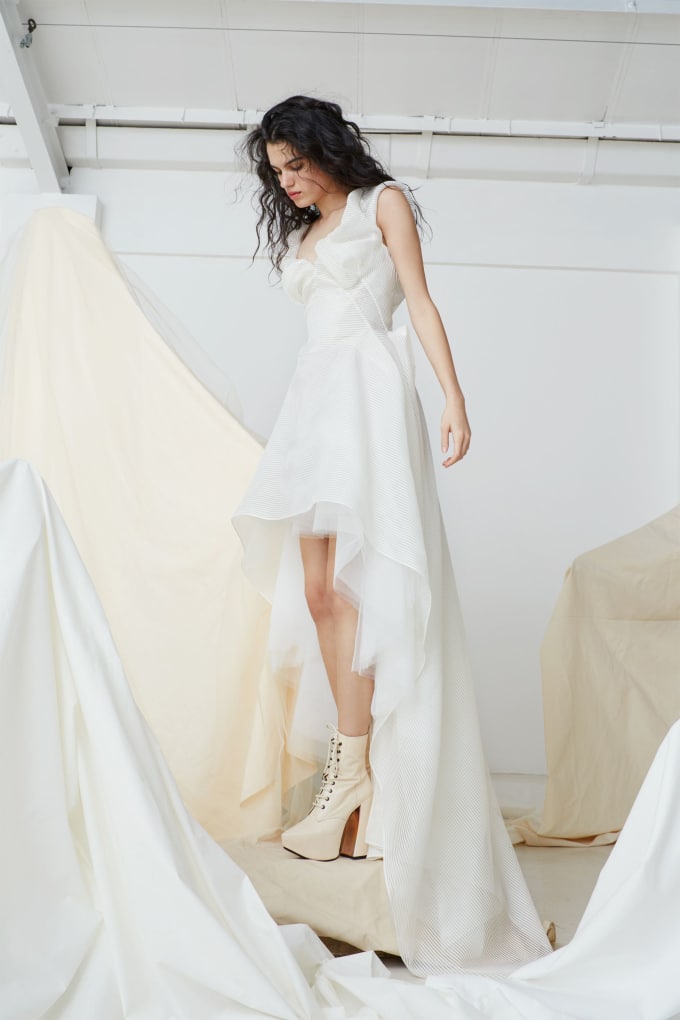 If anyone is a household designer name on this list, it's the incomparable Vivienne Westwood. A British designer in her late-70s, she is an uber-trendsetter in her own right; especially in the fashion lane of modern punk (she's also quite the activist too!). If there were one word to define her designs, "eclectic" would probably be it.
If you go to the bridal section of her site, her haute couture pieces are for the kind of woman who wants to make a contemporary impact with touches of sexiness and femininity, although she does also have an AK for VW section that is more complementary to her modern punk style and feel.
Either way, if you've always dreamed of having a Vivienne Westwood dress, for the right price, you can have one customized. How cool is that?
Alberta Ferretti
Have you always wanted to wear a gown by an Italian designer for your wedding day? How about Alberta Ferretti? Since the late 1960s, she's been making quite the impression on the fashion world thanks to her love for layering and semi-subtle draping.
So, just what kind of woman would fall for her bridal collection? Probably the one who can never turn down a good cocktail party and a reason to totally dress up for it. Or, the kind of woman who wants the kind of dress that drips with romance without overkill.
Some things we particularly like about Alberta Ferretti's designs are that they fit almost every body type and women of all ages would like them. She also has the kind of wedding gowns that won't collect dust in any closet. You'll be tempted to wear yours again and again.
Reem Acra
Reem Acra is a dress designer from Lebanon who got her start as an interior luxury designer before starting a signature line of her own.
There's a cool story behind how she became one of world's most well-known wedding dress designers. In the late 90s, a friend made a bet with her that if she could complete her gown in three weeks, she would go through with the wedding. Guess who won that bet? She officially started her line in 1997 and had her first fashion show in 1999.
Embroidery is definitely something that this particular designer is a huge fan of, but hey, we're certainly not complaining. Any woman fortunate enough to end up with a signature Reem Acra gown is beyond blessed. Blessed indeed!
Monique Lhuillier
Filipino-American designer Monique Lhuillier has over one million Twitter followers. Pretty impressive, right? If you've ever seen her bridal, lifestyle, ready-to-wear, or even baby brand, you'll certainly be able to understand why.
Taylor Swift, Katy Perry, and our current First Lady have all worn one of Monique Lhuillier's works of art and just last year she was the winner of the Best Bridal Fashion Show at the Elle International Bridal Awards in 2017.
Whimsical, delightful, and dreamy are some of the words that immediately come to mind when we look at any of her dresses, including her upcoming Spring 2019 collection. Monique Lhuillier truly has a way of making you look like the belle of the ball without looking dated or old-fashioned.
(Oh, her Twitter handle is @M_Lhuillier if you're wondering.)
Jenny Packham
Another popular British designer of ready-to-wear attire and bridal gowns is Jenny Packham. Although she has showrooms in London, New York City, and even Hong Kong, if you're wondering why dresses like this one look so familiar to you, it's probably because she launched a line with David's Bridal back in 2016. (Yep, gorgeous gowns can be totally affordable and one of the ways to shop for a wedding on a budget!)
Jenny Packham is on the list of being one of the world's best wedding dress designers, in part, because she is a favorite of celebrities. The stars who've worn her dresses include Oprah Winfrey, Emily Blunt, Blake Lively, Uma Thurman, and British Grammy-award winning singer Adele Adkins.
Jenny Packham's wedding gowns are simple yet elegant—the kind of dresses that are appropriate for casual weddings in the middle of the day or formal ceremonies after six. Her unique versatility is also what makes her such a fan favorite.
Sarah Burton for Alexander McQueen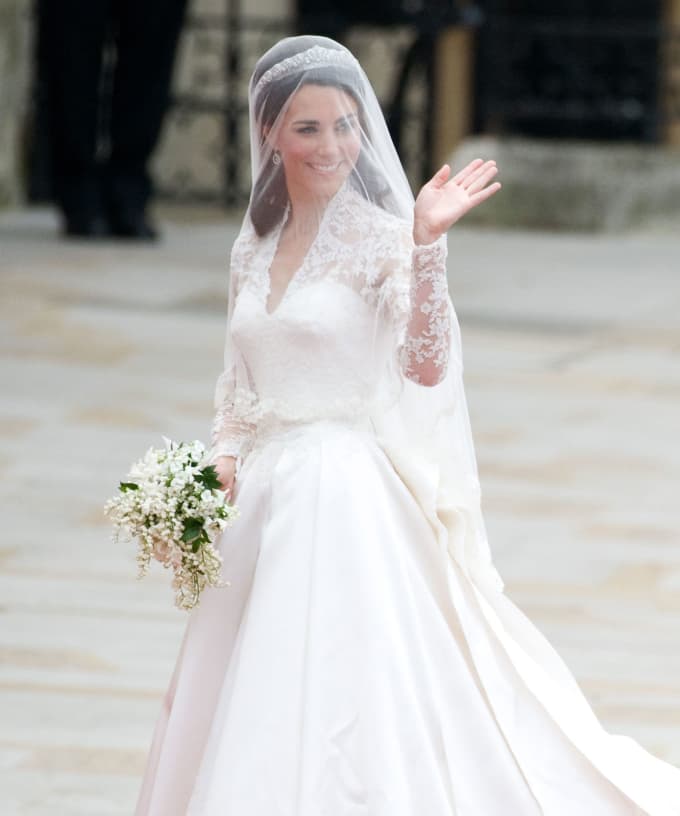 Sarah Jane Burton is the creative director of fashion brand Alexander McQueen. Rightfully so too, because she was also the designer of Serena Williams's wedding gown, and Catherine Middleton's wedding dress as you can see here as well. Another pretty impressive note on her resume is back in 2012, she was on Time's 100 list of most influential people.
Unlike all of the other dress designers featured in this article, it's a little harder to find an actual wedding dress collection by Sarah Jane Burton. But if you go to your favorite search engine and put "Sarah Jane Burton for Alexander McQueen" into the search field, you'll find all sorts of interviews with this inspiring designer that will give you a clearer picture of the woman behind so many amazing wedding gowns. Hopefully, you can snag one of the best wedding photographers from Instagram to capture you in whichever wedding designer you choose from, because you can't go wrong with any of these names.